Matrons and Madams with Author Sharon Johnston
Friday, Oct 30, 2015 at 3:00 PM EDT



Her Excellency Mrs. Sharon Johnston will read excerpts of her first work of fiction Matrons and Madams, at the University of Waterloo. Students, faculty, staff, and community members alike, are invited to join her at 3 p.m. on October 30th in Federation Hall for an engaging dialogue and discussion of her new book.
Matrons and Madams, will be available on-site for purchase.
Space is limited, please RSVP to reserve a seat.
Paid parking is available in our visitor parking lots which can be found on our campus map.
Federation Hall
200 University Avenue West Waterloo, ON N2L 3G5 CA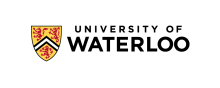 University of Waterloo
The University of Waterloo is Canada's top innovation university. With more than 36,000 students we are home to the world's largest co-operative education system of its kind. Our unmatched entrepreneurial culture, combined with an intensive focus on research, powers one of the top innovation hubs in the world. Find out more at uwaterloo.ca.