ConradConnect Live in Toronto
Wednesday, Jun 6, 2018 at 6:00 PM EDT



Join us at ConradConnect Live in Toronto!

Ventures from the current MBET class will pitch their startups in a fast-paced but friendly pitch competition, vying for $1500 in prizes. Alumni will cast their ballots to choose a winner, followed by refreshments and reconnection with fellow alumni, faculty, and current students.
6:00 pm | Doors open.
7:00 pm | Hear pitches from five current MBET teams, and cast your vote for the winner.
8:00 pm | Informal networking and connection, refreshments served.
Parking

There are several public parking spots lots in the area of the venue. Parking is pay-and-display. Here are some options:
Ryerson University Parking on Victoria St
Dundas Square Municipal Parking at 25 Dundas Street E
Parklink Parking at 22 Elm Street
Here are the teams pitching their ventures!
SoundBooth
SoundBooth is a mobile platform that acts as a centralized hub for music venues and DJs to connect and collaborate on all their scheduling and sound equipment needs for events. Through streamlined, contextual communication, Soundbooth ensures every musical performance runs smoothly.
Giraffe
Giraffe is a provider of web-based pre-employment assessment services designed to make it easy for organizations to hire people with disabilities. Giraffe removes barriers for people with disabilities and addresses the social responsibility needs of companies.
Platable
Platable is a fully integrated digital approach to the next generation full-service restaurant experience. Platable allows restaurants to entice guests and extend their experience beyond the physical space, while giving guests a platform to enter, engage with and exit the restaurant in a seamless and modern fashion.
CataLight
We believe that everyone shares in the same basic human right to a standard for health and well-being and that without access to clean drinking water, there is no health and well-being. At CataLight, our goal is to provide people in developing communities with affordable, safe drinking water. To achieve this goal, CataLight has developed an affordable and reusable point-of-use water treatment unit.
WellPoints (previously known as The Health Aisle)
WellPoints is a platform connecting patients and pharmacists. The main functions of the platform will allow pharmacists to send individualized monitoring plans to each patient and follow-up in real time. This can be used for chronic disease management, monitoring for drug side effects and can also be used to prepare care plans. The platform also allows patients to see what services their pharmacist can offer, book appointments and have access to their own health data to share with other professionals/care givers in their circle of care.
The DMZ
-
Suite 600
10 Dundas Street East Toronto, ON M5B 2G9 CA
Tickets
| Type | Price |
| --- | --- |
| MBET Alumni | Free |
| Current MBET student | Free |
| Prospective MBET student | Free |
| Conrad Staff/Faculty | Free |
| Friend of the Conrad Centre | Free |
| Undergraduate Student/Alumni | Free |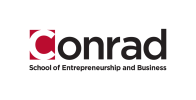 Conrad School of Entrepreneurship and Business
The Conrad School is an immersive educational environment for entrepreneurs. Located within Canada's most innovative university, in a region ranked among the top startup ecosystems in the world, the Conrad School is the academic engine for entrepreneurship at University of Waterloo, offering entrepreneurship education to undergraduate and graduate students in all faculties.