Nobel Prize Viewing Party
Ira G. Needles Hall

- Board and Senate Chambers | 3407

Monday, Dec 10, 2018 at 10:30 AM EST



Join our on-campus viewing party of the Nobel Prize ceremony, and watch Professor Donna Strickland, Nobel Prize winner accept the Nobel Prize in Physics 2018 live from Sweden. Let's celebrate Professor Strickland's outstanding achievement together!

We anticipate the program from Sweden to begin promptly at 10:30 a.m.

Light party snacks provided.
Ira G. Needles Hall
-
Board and Senate Chambers | 3407
200 University Avenue Waterloo, ON N2L 3G1 CA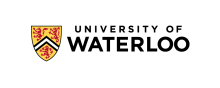 University of Waterloo
The University of Waterloo is Canada's top innovation university. With more than 36,000 students we are home to the world's largest co-operative education system of its kind. Our unmatched entrepreneurial culture, combined with an intensive focus on research, powers one of the top innovation hubs in the world. Find out more at uwaterloo.ca.