Turning back the Doomsday Clock
Tuesday, Jan 29, 2019 at 7:00 PM EST



It's no joke. The Doomsday Clock is a widely recognized indicator of global threats from nuclear weapons, climate change, and disruptive technologies. Join a discussion with University of Waterloo scholars in political science, sociology, and English to understand the threats, and how society might turn back the clock.
Kitchener Public Library
85 Queen Street North Kitchener, ON N2H 2H1 CA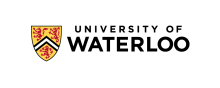 University of Waterloo
The University of Waterloo is Canada's top innovation university. With more than 36,000 students we are home to the world's largest co-operative education system of its kind. Our unmatched entrepreneurial culture, combined with an intensive focus on research, powers one of the top innovation hubs in the world. Find out more at uwaterloo.ca.