Come and Support Demine Robotics
Engineering 7 (E7)

- 2nd Floor, Conrad School Hub

Thursday, Apr 4, 2019 at 7:30 PM EDT





Demine Robotics is bringing their robotic solution into the Cambodian minefields to clear explosives and needs your support!

Please join Demine Robotics on International Mine Awareness Day, Thursday, April 4th and be a part of the journey of building robots with a humanitarian mission.

Meet the Waterloo alumnus who is innovating a future free of landmines, Co-Founder and CEO Richard Yim, to hear about their progress and kick-off their crowdfunding and fundraising campaign.
Engineering 7 (E7)
-
2nd Floor, Conrad School Hub
200 University Avenue West Waterloo, ON N2L 3G1 CA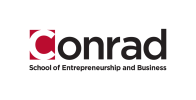 Conrad School of Entrepreneurship and Business
The Conrad School is an immersive educational environment for entrepreneurs. Located within Canada's most innovative university, in a region ranked among the top startup ecosystems in the world, the Conrad School is the academic engine for entrepreneurship at University of Waterloo, offering entrepreneurship education to undergraduate and graduate students in all faculties.