Centering Indigenous engagement in the work of wellbeing and health promotion
Monday, May 17, 2021 at 1:00 PM - 3:00 PM EDT

{ "name":"Centering Indigenous engagement in the work of wellbeing and health promotion", "description": "https://ticketfi.com/4175/centering-indigenous-engagement-in-the-work-of-wellbeing-and-health-promotion", "startDate":"2021-05-17", "endDate":"2021-05-17", "startTime":"13:00", "endTime":"15:00", "location":"", "label":"Add to Calendar", "options":[ "Apple", "Google", "iCal", "Microsoft365", "Outlook.com", "Yahoo" ], "timeZone":"US/Eastern", "trigger":"click", "inline":true, "listStyle":"modal", "iCalFileName":"invite.ics" }



Building on the momentum from the first Leadership Event of the Canadian Health Promoting Campuses Network, we invite you to join us in an online event about centering Indigenous engagement in health promotion and wellbeing. This event will take place on May 17, 2021 10am-12pm PST | 1-3pm EST. At this event you will learn about:
how institutions can approach the work of the Okanagan Charter through the lens of Indigenous engagement by learning from the strengths, knowledge, and practices of Indigenous Peoples', rooted in their diverse worldviews,

approaches to center Indigenous worldviews and ways of being in our understanding of wellbeing and health promotion within the higher education model,

stories on how Indigenous community members in higher education are leading change in wellbeing
You will hear from a diverse group of Indigenous leaders and students from higher education, health promotion and wellbeing, and beyond, including:
Elder Grouse Barnes, Westbank First Nation
Mark Solomon, Dean of Students and Indigenous Education, Seneca College and President of CACUSS. Mark will be joined by Indigenous students from across the country to engage in a conversation circle.
Dr. Sheryl Lightfoot, North American Representative to the United Nations Expert Mechanism on the Rights of Indigenous Peoples (2021-2024), UBC Office of Indigenous Strategic Initiatives, Senior Advisor to the UBC President on Indigenous Affairs
Kathleen Leahy, Director, UBC Learning Exchange
The formal agenda will be 90-minutes, followed by an optional 30-minute breakout room for reflection and sharing with other attendees. A zoom link for the event will be emailed to all registrants a minimum of 24 hours prior to the event.

The topics we cover at this event may be sensitive or emotionally triggering. It is important that you look after yourself. If at any point during the event you feel that you need to speak with an Elder, Elaine Garner will be available to connect with Indigenous participants and speakers one-to-one.

Elaine Garner is an Anishinaabe and was born in Wolseley Bay on the French River in northern Ontario. Her father was from Dokis First Nation and her sister still lives there. She travelled extensively, living in Brazil and working at Washington State University. Elaine retired as the senior financial manager for graduate scholarships and awards in 2014. Elaine's highlight of service, at both universities, was working with students. Elaine's impact extends far beyond the university when she and her friend, Nina DeShane Gill started White Owl Native Ancestry Association in 1985, White Owl is a community based resource that offers counselling, land based teaching and programs, outreach to services, and an Elder community.
Available Online Only
Instructions will be sent out via email after registration.
Tickets
| Type | Price |
| --- | --- |
| Centering Indigenous Engagement | Free |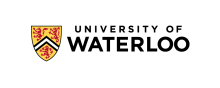 University of Waterloo
The University of Waterloo is Canada's top innovation university. With more than 36,000 students we are home to the world's largest co-operative education system of its kind. Our unmatched entrepreneurial culture, combined with an intensive focus on research, powers one of the top innovation hubs in the world. Find out more at uwaterloo.ca.