GEDIx: A 30-minute Exchange with TeTechS and Friendlier
Tuesday, Nov 16, 2021 at 1:00 PM - 1:30 PM EST



Reimagining reducing and reusing before recycling

We've all been taught the 3Rs from a young age: reduce, reuse, recycle. But we tend to focus too much on that last R. While recycling is important, less than 10% of plastics in Canada are recycled, which means it does little to reduce how much of it we consume. We may even use more because we think what we're using is being recycled. Which brings us to a missing "R": reimagine.

Join us as we hear from two companies who are reimagining plastics in the supply chain. TeTechS helps reduce the amount of plastic resin consumed as a product is being created – up to 30%. The folks at Friendlier facilitate creating the virtuous cycle of reusability, to ensure a product is reused multiple times before it is finished, reducing the need for so many plastic items to be created in the first place.

We hope you—and your reusable beverage container—are able to join us on November 16th for what is sure to be an exciting and informative discussion.

Please join us for 30 minutes at the next GEDI Exchange webinar with Friendlier and TeTechS to discuss reimagining reducing and reusing before recycling.

If you have a few extra minutes, there will also be 10 minutes of audience Q&A after the discussion.

---
Join us as we sit down with some of the best and brightest to discuss the innovation of today and tomorrow!
More than ever, our society and economy need innovation to thrive and stride into the future. Fortunately, at the University of Waterloo and in its surrounding ecosystem, we have many of Canada's leading enterprises working on and succeeding at doing just that. Some are established and transforming rapidly to lead in the world around us. Others are new, you've likely never heard of them before, but are the bright sparks we need to shine light on our path forward..

At UWaterloo, we created the GEDI Exchange to bring these bright sparks together to start a fire: to pool ideas, find ways to cooperate and collaborate, to solve problems better, to address new markets and customers … in short, to get something cooking. It really is a race out there to find the best ideas and innovators, and to team up with them. Tune into this webinar series to find out who they are, what they do, and get connected with them.

We'll keep it short too: these days we're all in many webinars. So just 30 minutes for our GEDI Exchange members and ecosystem partners to present their viewpoints and new ideas. If you have a few extra minutes, there's also 10 minutes of audience Q&A after that

For more information contact: gedi.info@uwaterloo.ca
Available Online Only
Instructions will be sent out via email after registration.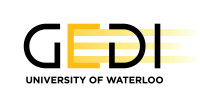 University of Waterloo GEDI
GEDI is the Gateway for Enterprises (industry and government) to Discover Innovation at the University of Waterloo. GEDI develops and manages partnerships between the University and those enterprises who wish to engage with UWaterloo in a significant and multi-faceted manner.