Peter Howitt Lecture
The Balsillie School of International Affairs

- Rm 142

Wednesday, Jun 15, 2016 at 4:30 PM EDT



The Rimini Centre for Economic Analysis, the Lazaridis School of Business and Economics, the Department of Economics, the Lazaridis Institute and the Lazaridis Executive Master's in Technology Management present, Peter Howitt, Lyn Crost Professor of Social Sciences, Brown University and Honorary Degree Recipient, Wilfrid Laurier University, Spring Convocation 2016.
Peter Howitt is one of the most prominent economists in the world and one of the most eminent Canadian social scientists. He is a fellow of the Royal Society of Canada, and past president of the Canadian Economic Association.
Peter Howitt is a co-founder of the modern innovation-based theory of economic growth, which focuses on creative destruction: the process of industrial change in which technological and scientific innovation replaces old know-how with new. An indication of the importance of his work is that, in 2014, Thompson-Reuters selected him as the leading candidate for the Nobel Memorial Prize in Economic Sciences.
Come and see Peter Howitt present, Innovation and Growth through Creative Destruction on Wednesday, June 15th 2016 from 4:30 - 5:30 p.m. in Rm 142 at the Balsillie School of International Affairs.
The Balsillie School of International Affairs
-
Rm 142
67 Erb Street West Waterloo, ON N2L 6C2 CA
Tickets
| Type | Price |
| --- | --- |
| General Admission | Free |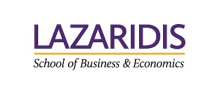 Lazaridis School of Business & Economics
The Lazaridis School of Business & Economics is one of the most prestigious and selective schools in Canada. We teach our students to think for themselves, ensuring they can adapt to a world of ever-growing complexity. Our alumni are making a difference in the world – and you can, too.

We have more than 6,000 students enrolled in our full- and part-time undergraduate, graduate and diploma programs, making us one of the largest business schools in Canada.

Our AACSB-accredited programs are among the most selective undergraduate business programs in the country and our students are among the most engaged. When our students aren't winning national case competitions, they are leading student clubs and organizations, volunteering in the community, or starting their own businesses.

Visit www.lazaridisschool.ca for more information on the Lazaridis School of Business & Economics.